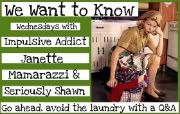 I'm joining in the fun with
Shawn
,
Impulsive Addict
,
Janette
and
Mamarazzi
again this week! Every week they are going to ask us questions that we have to answer and we'll get to know each other better. I for one am very excited to get to know
Becca
and
Mimi
better. I also found some new blogs last week and that really makes me happy!
1.} What is the first thing you notice about the opposite sex? Are you an eyes or a smile person? Maybe another body part?
Ian Axel
I notice their hair.....I'm a sucker for a Jewish guy with frizzy hair. Like
this guy
. And teeth. I like nice teeth.
2.} If a movie was being made about you who would you like to see cast to play you? And would your movie be a comedy, drama, romantic-comedy, action film or a horror movie?
If they were doing a movie about my unfortunate life before I met my current husband....a very fat Gwyneth Paltrow would play me. Because I used to be very heavy and had blonde hair in that life. It would be a lifetime movie about how I escaped and started a new life.
3.} Does your senior yearbook include a senior comment section? If so share what you said about your future goals. Have you met those goals? If you do not have a yearbook just share an old picture and let us know what your goals where when you were 18 and if you have met them. If you're brave enough, include your senior picture!
Young Connie had two goals her senior year of high school. She wanted to get out of her parents house and she wanted to have children. Both of these goals required finding a husband. While other kids were heading off to college....Young Connie found a job and a guy that wanted to marry her. He wasn't the right guy but that didn't matter.
Not my husband.
4.} What latest trend simply baffles you?
80's style sunglasses. I will never wear them again. Ever.
5.} When you walk into a room how do you present yourself? Do you walk in with confidence and command the attention of others or do you slink in and do your best to go unnoticed?
I think it depends on how I'm dressed. If I'm wearing an outfit that I really like...I'll walk in with confidence. If I'm not feeling my best....I'll try to be invisible.