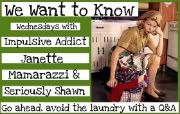 A couple of my blog buddies are starting a new weekly linky called We Want To Know Wednesdays. They will ask questions and I'm
required
going to answer them. They specifically asked me to participate because I'm
good at being interrogated
witty. Here you go
Shawn
,
Impulsive Addict
,
Janette
and
Mamarazzi
.
Do you make friends easily?
I think I do....mostly. I'm outgoing and friendly so I think I'm approachable.
What 3 qualities are a MUST in a friend?
1.) open minded 2.) funny 3.) willing to bury a body
What makes YOU a good friend?
I will give you the shirt off my husband's back. I will watch your baby anytime you ask me. I will re-tweet the shit out of your posts. I will watch any reality show or vampire movie you want. I'm honest, loyal, kind hearted, I can hold my liquor and I can keep a secret.
Have you ever met a bloggy friend in real life?
I have met many a bloggy friend and made them real life friends. My first was
Loralee
. I drove two hours one way
to see her perform in a musical
. Then later...I was the one that figured out that she was pregnant! I've shared an awesome meal with my friend
Chrisy
twice, and then we
kidnapped Jessica Bern
. I met
Tina on the Twitter
and then we became blog buddies, now we're friends for life! I've met
Jen from Tattertots and Jello
and she liked me even though most of Utah didn't. And of course since moving back to Denver,
I've met a bunch of bloggers
!
Who is your best friend? Tell us about them.
I have known
my best friend Jessica
for almost three years. We met on the internet because we both loved to cook and we used to post our recipes on our blogs. She is beautiful, smart, organized and married to an awesome guy! We have so much in common it's scary. She has the most adorable little boy named Ryan and when I had all my trouble with my family....she adopted me. And we've never met in person.