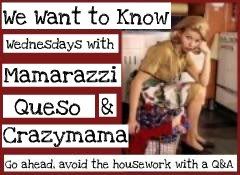 I'm linking up with
Shawn
,
Impulsive Addict
,
Janette
and
Mamarazzi
again this week....even though I have two other posts sitting here itching to be written. I have priorities!
This week the questions are from Shawn and they feel urgent. She MUST know, what I MUST do. Cue my guitar solo.
1.} What
must

you do before you go to bed at night?
I
must
wash, polish and moisturize my face. I'm 40 now so my skin care routine is very important to me. I also
must
read for at least 30 minutes. If I don't....I just lay there. Sleep will not come.
2.} What is one thing you
must

snack on at the theater?
This is a new must for me. I used to eat popcorn or m&m's but ever since the time a year and a half ago when I was on the Hcg diet and I ate Raisinettes and didn't gain weight....I
must
get them. Raisinettes are magic.
3.} Before going on vacation what
must

you do?
I
must
do the dishes. This isn't because I'm an OCD housecleaner. This is because one time when I had TWO babies....we were getting ready for a trip and I left a couple dishes in the sink because I was tired as heck and iKeith yelled at me for leaving them in there the entire time.
4.} What is one thing you
must

do every day?
I
must
drink a cup of coffee. And I
must
listen to
this song
and
this song
and
this song
.
5.} Is there something you do that
must

be done in a particular order?
I
must
put my underwear on before my pants.
*Songs...in case you don't have time to brighten your day.
If Today Was Your Last Day by Nickleback
You're Gonna Miss This by Trace Adkins
Whole Wide World by Mindy Gledhill