My buddy ******* from
Confessions from An Impulsive Addict
wants to know a few things about me this week and I think she's really going to be sorry that she asked.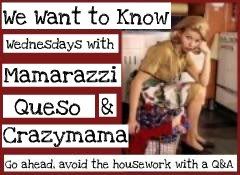 1). If the blogging world had a talent show, what would your act be?
In the blogging world talent show I would be the comic relief in-between the really good acts. I'm good at making people laugh!
2). What's the most likely reason you might become famous?
My sex tape.
3). What question are you repeatedly asked that you are tired of hearing?
Can I have a Popsicle.
4.) What's the last thing you broke?
My diet
A noisy toy...so I could throw it away.
5.) Finish this sentence. I can't believe I used to ________.
be a pick-up driving, red neck living on a 660 acre ranch in the middle of nowhere with a broken well and a stupid (ex) husband, two black dogs and 6 cats. I really miss the cats that I named Ally McBeal and Oprah.