I'm a burnt crispy Mama today. Coppertone SPF 55...you are dead to me. I
mpulsive Addict
wants to know some stuff and she got some help with her questions from a couple folks. Must be because she's been laying out by the pool with SPF 100.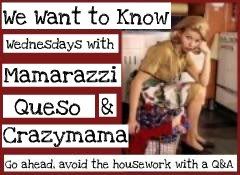 1. What was the last thing you searched for online?
Vacation rentals in Evergreen Colorado. The kids and I spent the day there yesterday and it was beautiful and NOT hot!
2. If we visit your home state, what is one MUST we should do before leaving?
Have a drink with me, see a sporting event (we have it all...football, soccer, baseball and basketball), eat Rocky Mountain Oysters and go skiing.
Oh wait...it says ONE thing.
You MUST see a concert at
Red Rocks
. It is magical!
3. What do you think pharmaceutical companies should invent a pill for that isn't on the market yet?
PMS. Kicks my ass and makes me eat chocolate every single month.
4. When was your first kiss? Was it good or bad?
My first kiss was with Todd. It was in 9th grade outside of Jackson Elementary School. He walked with me to pick my sister up from school and while we were waiting for the bell to ring....he stuck his tongue down my throat. It was gross!
5. What is your guilty pleasure tv show that you can not miss?
Pretty Little Liars
. It is the most interesting, irritating and fashionable show on television. I've also become slightly addicted to old episodes of
The Secret Crappy Life of the American Teenager
. I watched all of season three while iKeith was out of town and now I'm up to the middle of season five. I can not get enough!
Thank you Amber at
Amberly Adventures
and Nadine at
All Along The Hightower
for question 4.
And Vandy at
The Testosterone Three and Me
for question 5.