I'm joining
Shawn
and
Impulsive Addict
for another exciting week of Talk To Us Tuesday! Today...I'm going to talk about my heart. My little boy. Who is not so little anymore.....and since starting Kindergarten has turned into a real live BIG BOY! Can you tell that I'm so in love with him?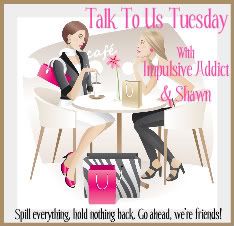 Alex had
Show and Tell
for the first time this week.
We worked with him for days to figure out what he wanted to bring. The theme was All About Me and the rules were that you could bring 4 things but they couldn't be toys or stuffed animals. This left out his TRUE LOVE....Legos.
We suggested several things to him....but this is what he decided on.
1.

A Birds of Colorado Booklet because he loves to look for birds when we go on adventure walks at the lake by our home.




2.

A picture of him and his sister who is his best friend and can't wait to start Kindergarten next year.




3.

A small screwdriver because his Mother has a screw loose he loves to build models that his grandpa gives him.




4

. His wallet because he's saving his money to go to Harry Potter World in Orlando Florida because he loves Harry Potter and wants to be Harry Potter for Halloween. His wallet contains 82 cents.

He tells us that he did really well and that everyone really enjoyed his presentation. I wish I could have been a fly on the wall....

*****

In other news

.....I thought that we lost Alex's literacy bag and we tore our apartment apart looking for it.

It looked something like

this

.

My apartment is now spotless and the damn bag was at school the whole time.

****

TODAY....my precious son, is having his first school picture taken.

And

here is my Kindergarten school picture. I look like a BOY!
Connie September 1976