Today....for Talk To Us Tuesday with
Impulsive Addict
and
Seriously Shawn
, I'd like to talk about something that drives me crazy about my husband.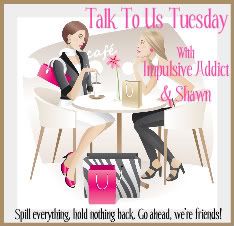 You see, he likes to use the Pharmacist as a Doctor. He does this because I've put the kabash on him taking the kids to the doctor every single time they have a sniffle.
For one thing, I don't like paying unnecessary co-pays and for another, I don't want to be labeled as *crazy* or accused of *munchausen syndrome*.
So now....when the kids are sick or have some other ailment, he asks the Pharmacist what to do.
Today, he wanted me to ask the Pharmacist why TOM* has decided to visit me 18 days early. I don't need to ask because I already know the answer.
MENOPAUSE!
*Time Of Month